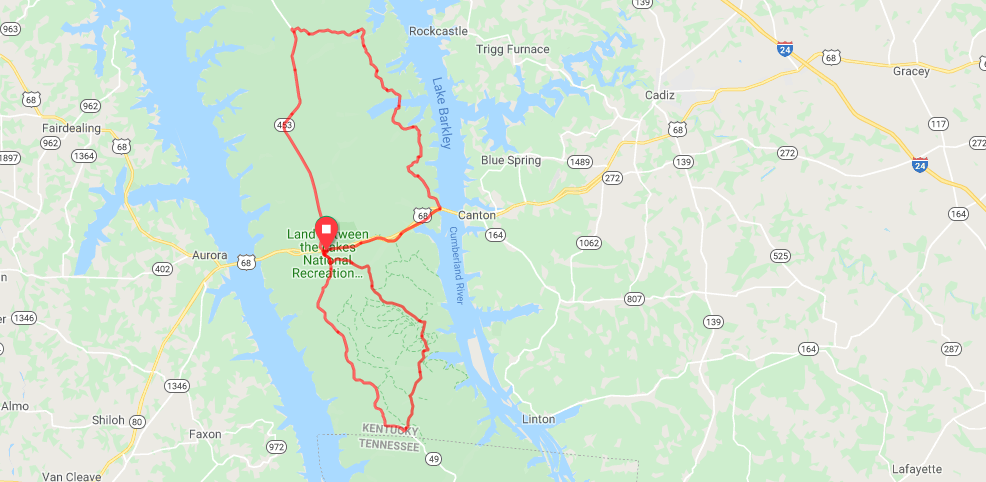 RIDE DELAYED – NEW DATES NOT YET FINALIZED.  Please check back here for any updates before making non-refundable reservations.
Good pavement, nice gravel, light vehicle traffic, courteous drivers, and the hills of western Kentucky in the springtime – what's not to like? Well, your legs might complain about some of the gradients, but the descents make it all worthwhile. And the riding companions – unparalleled.
Friday dinner, April 17:
For those folks coming into town on Friday, we'll meet at Triplett's BBQ in Cadiz for dinner. The restaurant is on US68/KY80 just west of I-24 at exit 65.
Saturday, April 18:
We will meet at 9:30am at the LBL Golden Pond Visitor Center on the Woodlands Trace Road, at the intersection of US-68/KY-80.  There is plenty of parking at the visitor center. I will have some repair/adjustment tools, grease, chain lube, floor pump, work stand, and some spare tubes and patches. Hopefully no major repairs will be needed before, during, or after the ride but we'll be prepared for the usual (and some of the unexpected). We'll roll out from the parking area around 10am.
There is no cost for these rides. If you want to chip in a little for the Saturday post-ride cookout, that would be appreciated, but it's neither expected nor required.
The route:
The route is entirely within the LBL. This loop starts and ends at the Golden Pond Visitor Center in LBL, and is about 46 miles, all paved. There are a small number of actual turns in this route, so there should be no issues with navigation or getting lost. I will give my cell number to riders, should assistance be needed during the ride.  Cell coverage isn't always the best in LBL, so bear that in mind.  This is an unsupported ride, but we will do our best to help everyone finish up safely.  At the southern end of the route, you could continue south on the Trace road and go to the TN state line and take a photo. It's only a couple of extra miles so go to Tennessee if your want. it's pretty close.

Other cool stuff to do:
If you want to come in a day early, or stay over for a day or two, you could follow the Kentucky Bourbon Trail.  If you like bourbon and want to sample the offerings by several distilleries, this is a great way to do it.  Check out where the distilleries are located and plan your route.
You can drive north on the Trace Road, and drive through the Elk and Bison Sanctuary.  There's a small fee at the entrance to the sanctuary, and it's well worth it.  I've been there more than once and it's a unique opportunity to see herds of bison and elk moving around the area.  You do have to be in a vehicle – a bicycle vs a 2000 pound bison – no thanks.
There is a trap range close to the Lake Barkley Lodge, so if folks are interested we can shoot some clay targets.  No prizes, just bragging rights.  I have shotguns, ammunition, and clay targets – so all you'll need is hearing and eye protection.  If you've not done this before, it's challenging and fun. If you're new to this, I'll be happy to help you shoot safely.
Post-ride cookout:
We are planning a cookout after the ride on Saturday. We'll just have it at my house. I'm about 20-25 minutes from LBL, so not too bad.  It's easier anyway as I can just leave everything is the fridge/freezer at home and not have to haul it to the Lodge. If you're local, just bring something to share.  Bring your favorite libations and we'll sit outside on the deck and relax.  Or, take a fishing rod and walk down to the dock and try your luck.
Sunday, April 19 – ride the trails:
If folks are interested, we'll take some fatter-tired bikes out for some trail riding on Sunday. There's a lot to choose from, the map links below will give you an idea of the variety available to us.  A good choice is the Hardwoods Trail, from east to west all the way to Kentucky Lake.  Mostly crushed limestone and a lot of fun.  I would rate this trail as easy/moderate.  Bikes with road tires won't be the best choice for this – wider tires are the best way to go.
At the north end of the LBL, there is a good singletrack loop named the Canal Loop.  I would rate this loop as moderate/difficult.
There is a fairly new option, the trails in Livingston County, to the north of LBL.  I've ridden there a few times and it's a lot of fun.  These trails are rated intermediate/difficult, so bring your "A" game. Be advised, you will want some tread on your tires for these trails.
We'll figure out when and where to meet during the cookout and I'll update the information here.
LBL Maps – click the Trails tab.
There are 500 miles of trails and 200 miles of roads in LBL. It is great to have this area so close to home. Not all of the trails are available for bicycling, so check the website while you scout a potential route.

Temperatures to expect:
The average high temperature in April is 75 degrees, so pretty good riding weather.
Lodging:
Here are some options for lodging and some suggestions for restaurants in the area.
Kenlake State Resort Park Reservations
Lake Barkley Lodge reservations
Both are reasonably priced and are just a few minutes from our starting place. Kenlake and Lake Barkley both have restaurants too. For those folks arriving on Friday, we'll meet for dinner.
Bike Shop:
Bikes and Moore in Hopkinsville is a shop that I've been to several times, and I couldn't find a complaint if I tried. Good folks and they'll be happy to help you out, should you need more than a tweak or two.  They have knowledgeable mechanics and a good parts inventory too.
Questions:
Contact me if you have any questions, I'll do my best to help.
Please watch your speed while driving in LBL, it's federal land, so speeding tickets are expensive – paraphrasing Agent K – "the rangers do not have a sense of humor they're aware of."