Well, at least a new frame.  I picked up an Eddy Merckx LXM carbon fiber frame a couple of years ago, and now i'm finally getting around to doing something with it.  My plan is to swap the entire Campagnolo group from the CAAD8 frame to the Merckx frame, and along the way to replace the cables/housings, clean up everything, and replace the bar tape as well.  I don't need many parts for this, mostly consumables like cables and cable guide, plus bar tape.  The existing stem may or may not work with this frame, that will have to wait until it's actually rideable to make that determination.
Hiccup #1: The bottom bracket shell was English thread, but it appears to have been sleeved to that thread size since all information I could find indicated that it was originally Italian threading.  Also, the shell width was too wide at 70.5mm.  That has to be fixed, since the crankset requires a 68mm shell width.  I wound up at Halcyon Bikes in Nashville, TN, and they took care of facing the shell down to 68mm, and while they had the frame they installed the BB cups and the carbon compact crankset (50/34).  Now that this issue is handled, the rest should go fairly quickly as I have the other bits I need for the swap.
First is to move the brake calipers from the CAAD8 to the Merckx.  next will be the front and rear derailleurs, but I need to take a photo of the cable routing so that I can properly set them up.  next will be the handlebars/stem and I'll probably leave the brifters mounted exactly where they are.  Wheels are easy enough, and the cables/housings are next.  Finally the seatpost and saddle, and it will be rideable.  I will wait to wrap the bars until I have a few miles, to be sure that shifting and braking are correct before covering up the cables.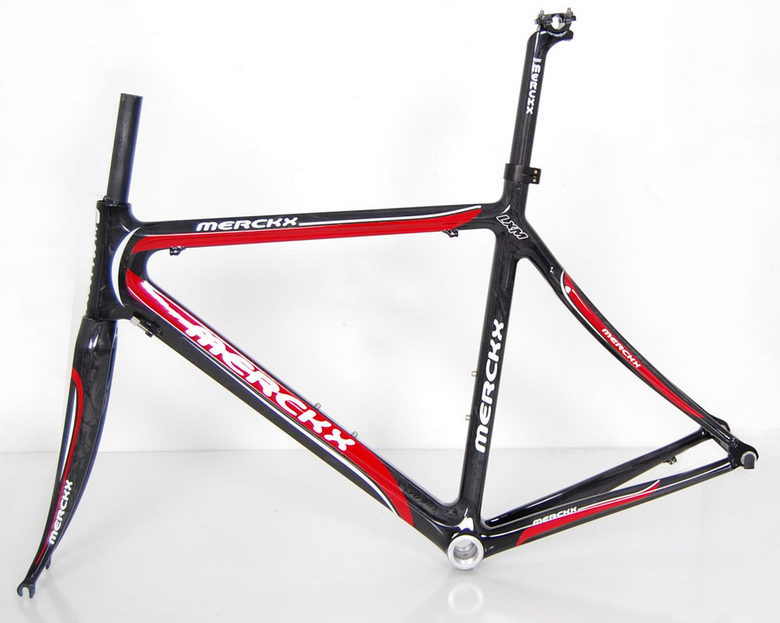 My first carbon bike – I'm really interested to see what differences I notice between the stiff alloy CAAD8 and the carbon Merckx.  Time and some miles will tell the tale.