A problem comes up from time to time – you just don't want to write with ink.  There is a really useful invention to solve this and it's called a pencil.  There are a staggering number of choices available.  This might surprise you, but probably not – I like mechanical pencils.
I have  a Pilot H1005 retractable mechanical pencil that, for some, is the holy grail of mechanical pencils.  The current prices seem to bear this out, since it has long been discontinued.  New or like-new examples sell for over $175, which seems a bit much, since it sold originally for around $15.  But I must admit it is a good design and mine is still going strong after 30 years – has it really been that long?
I thought I would try another one, opting to leave the Pilot in the desk drawer.  So I did some reading and found the Uni Kuru Toga which has a unique feature.  As you write with it, the mechanism rotates the lead a few degrees each time you lift it from the paper, so the lead stays sharp.  It's a very fascinating thing to watch and it isn't just a marketing gimmick – it actually works.  The price – around $12.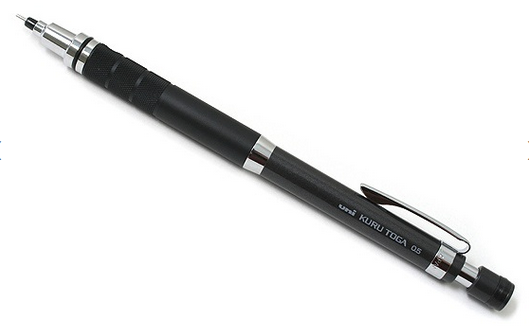 Then I decided to pick up a Pentel Sharp Kerry.  Not a new design but a very popular one.  The cap covers the lead tube when it's in your pocket, and you just remove it to write.  If you decide to post the cap, the lead advance button on the cap will advance the lead without removing it.  Not particularly fancy, just a good design that has been around for quite a while – with good reason.  The price – around $18.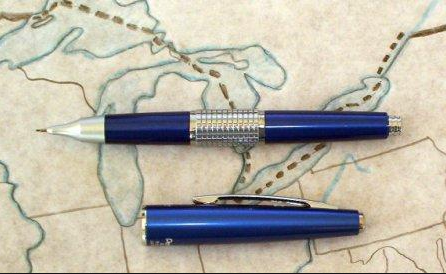 My next, and likely my last pencil purchase was a rOtring 800.  This is rOtring's top of the line pencil, with a retractable tip.  The rOtring 600 is very popular and the primary difference between the 600 and the 800 is the 800's retractable tip.  It certainly makes it a safer EDC pencil, since it probably won't impale you like the non-retractable 600 might.  Made from brass, it has a nice feel to it and the balance seems neutral.  This one will be with me for a long time, I'm thinking.