Point fountain pen.  Two, actually.  The Decimo and the Fermo.  The Decimo retains the click mechanism to extend the nib, and is a slightly slimmed-down version of the original Vanishing Point.  There are other differences too, the Decimo is noticeably lighter in weight than the VP, and the pocket clip is reshaped, lying closer to the barrel, and slimmer in width.  I don't find the standard VP pocket clip to be an issue, so the smaller Decimo clip isn't either.  if the standard VP clip just didn't work for you, give the Decimo a look – you might find that Pilot has made a retractable fountain pen for you.  This photo shows the original VP and the Decimo – I'll let you decide which is which based on my description.  Hint – it's not difficult to tell them apart.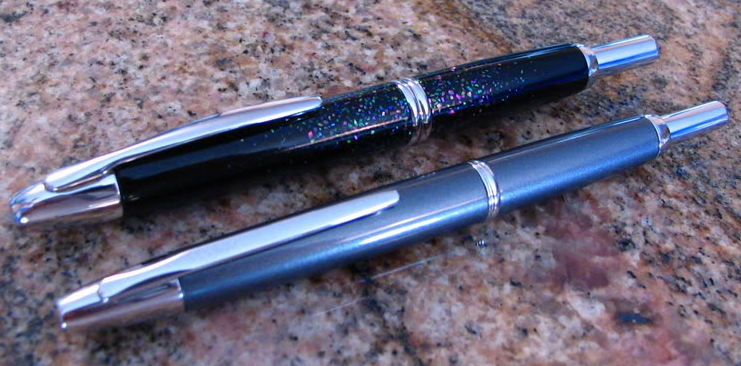 The Fermo is more like the original VP, but there are differences here as well.  Weight isn't one of them, the Fermo and the original VP weigh almost exactly the same.  The clip is reshaped, and is fastened directly to the barrel rather than to the extended cap of the standard VP.  And the big difference, the mechanism for extending the nib in the Fermo is a twist, not a click.  Twist the ribbed end of the pen clockwise, and the nib extends.  Turn it counter-clockwise, and the nib retracts.  Because the pen doesn't get any shorter when you twist the section, the pen seems larger (and it actually is about a quarter of an inch longer with the nib extended).  On the click VPs, the pen does get a little shorter because the clicker remains in the depressed position while the nib is extended.

All of the Pilot / Namiki Vanishing Point, Decimo, and Fermo models share the same same nib units and converters / ink cartridges.  You can mix and match to your heart's content.
Stay tuned – the Lamy Dialog 3 is next.