I just received my Lamy Dialog 3 retractable fountain pen today and it's quite nice in glossy piano black, with a gold and rhodium medium nib.  The nib had some ink on it , but that was expected as Lamy dip tests their pens at the factory before shipping them.
I cleaned the nib and let the nib unit dry.  I've decided (for now) to use Diamine ASA Blue ink in the Lamy, that may or may not be the case for the next fill.  Can't say just yet.
The mechanism is somewhat similar to the Pilot Vanishing Point Fermo,  where the nib is extended for writing by twisting the top (bottom?) section of the pen clockwise.  The "door" to seal the nib and prevent drying out is a ball valve style that rotates 90 degrees to expose or to close the nib section.
The design is minimalist, basically a cylinder with rounded ends, of a constant diameter.  Here's a photo.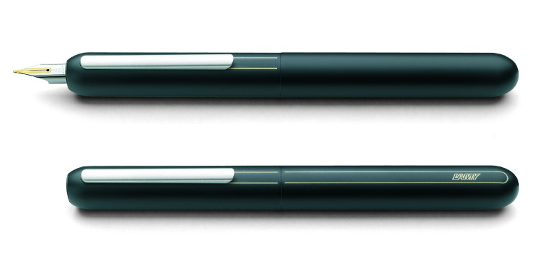 The medium nib is quite smooth, literally gliding over the paper.  I haven't tried any downward pressure while writing, but others have reported the nib is flexible enough for some line variation to make it's appearance.
One other thing i forgot to mention, the pocket clip.  it can be an issue for you, depending on how you hold your pen while writing.  This clip is, by design, less intrusive than the clip on the Pilot standard VP.  The Lamy clip actually retracts into the barrel when the nib is extended to make it less of a bother, and then returns to it's normal position when the nib is retracted.  Just a refinement that does actually work to make the pen "fit" better.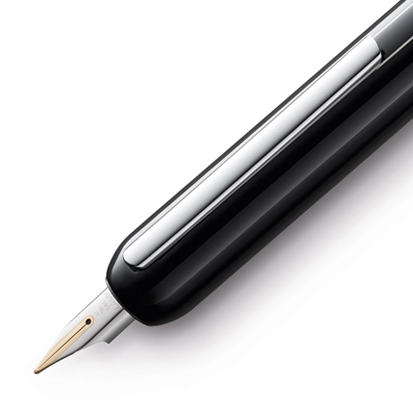 The nib alone would probably cause this pen to be a "keeper", but couple that with the retractable mechanism and the clean design, and it becomes a "double-secret" keeper.  Animal House fans will get the reference.